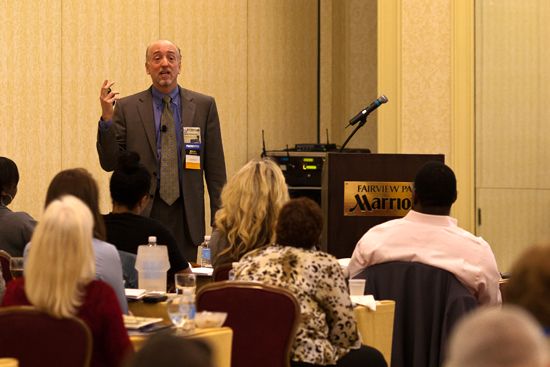 Making Today's Vision Tomorrow's Reality: Golden Nuggets from the 2011 Mid-Atlantic Conference
The Mid-Atlantic Proposal Conference and Expo is the premier event for business development and proposal professionals in the greater Washington, DC area. This year the conference reached out beyond the DC-metro area and attracted almost 300 participants from ten states and South Africa. Preliminary results are trickling in, but one thing is clear. The conference set new high standards for content and value across the board. Conference highlights include:
20 skill-building sessions presented by industry experts across four knowledge tracks (Professional Development, Technical Skills in Proposal Development, Capture Management, Financial/Pricing)
Value-add icebreaker and keynote sessions by established leaders/speakers
A corporate partner expo and book store featuring the latest proposal products, services, and best practices
Networking opportunities with friends and colleagues (old and new)
APMP professional accreditation continuing education units
Special thanks to the conference presenters of the following general and elective sessions I attended for their leadership, inspiration, and the golden nuggets for this article. I'm sure that there were equally valuable nuggets in the sessions I missed.
Icebreaker- Enabling Change and Peak Performance (Matt Lyon)
From Scratch: Communication Skills for Negotiation, Conflict Resolutions and Building Terrific Teams (Wayne Soares)
Spending Smart: Making the Most of Your B&P Budget (Wendy Frieman)
Wanted: Capture Leaders and Proposal Leaders to Take Our Profession to the Next Level (Jim McCarthy)
How to Make Your Ideas Stick in Proposals (Jayme Sokolow)
Today's Teaming Tools to Improve Your Capture Management Process (Eddie Becker)
African Bid Safari (Neil Philipson)
Golden Nuggets
I uncovered the following conference nugget take-away points throughout the day. Some of these nuggets may seem like common sense, while others will surprise you. Either way, if you apply these nuggets at home and at work you will take the first step toward achieving the conference theme by making "Today's Vision…Tomorrow's Reality".
 Attributes of a peak performer. Attitude can be the difference maker between success and failure, or positioning yourself to stand out in a crowd ("the difference that makes the difference"). Focus on attitude (80%) vs. skills (20%) and peak performing success will be yours. Example: It doesn't take a lot of skill to break a karate board (just about any adult can do it), but it takes a lot of attitude.
Gain momentum through adversity. Use adversity to channel your energy and focus this energy in a positive way to gain momentum in target pursuits. Take pride in what you do and use positive focused intensity to get you where you want to go.
Don't underestimate the value of integrity. Integrity needs to start at the top where management typically sets the tone for your organization. Always be generous and humble. Get to know your people, make the time to spend with family and friends, and take the time to pursue your passions. Simple hand-written notes of acknowledgement or thanks can be powerful tools to motivate others. The path to integrity is slow and steady (like the story of the tortoise and the hare). Help others, be the example that people emulate, be a mentor.
Make time for what's important. It's easy for most of us to be caught up in our jobs and neglect what's really important in life—our family, friends, and our health. Make time to take care of what's really important in life to be truly rich.
Spend on people. Bid and Proposal (B&P) dollars are typically spent on staff, production, writing, and color/gate reviews. Of these areas, the biggest expense is typically people (90% of B&P). Avoid simply taking the people you are given—especially if they don't have the experience and qualifications to win the deal.
Don't skimp. Spending smart doesn't mean skimping or cutting corners. Focus on finding the 'right' people by fighting for the resources that you know you need and protecting those resources once you get them. Collect metrics and historical data to track expenses, compare to historical baselines, and use for future B&P planning. Use these facts to defend and protect your budget.
We have managers but we need leaders. Capture and proposal managers have a significant and lasting impact on the success of our companies, the vision of our customers, and the overall quality of our daily lives. We matter… a lot! If we want to take our profession to new heights, more of us need to step up and assume leadership roles.
A tough business. The proposal profession is a tough business. Careers are at stake, resources are stretched, and doing more with less subjects us to significant stress and potential health risks if we don't take care of ourselves. There are numerous pitfalls that we all experience including: relying on luck and opportunity vs. strategic planning; starting new business pursuits too late; not knowing what customers want vs. what they think they need; cutting corners to save time and money, and; not having enough customer intelligence to price our solutions effectively.
Root cause leadership challenges. We face numerous leadership challenges including: lack of market focus and discipline; inefficient/ineffective color reviews; too much emphasis on company features (what we're selling) and not enough on customer benefits (what customers want to buy), and; lack of proof points to substantiate our claims.
Leadership call to action. In order to lead effectively, we need others to follow. Leadership begins with exceeding expectations in everything we do; avoiding complacency at every turn; being bold and testing the limits; being humbleespecially when you're right; making everyone on your team look good; being tenacious, resilient, and patient, and; listening more and talking less.
Make ideas stick. Chip and Dan Heath's book, "Made to Stick" provides the backdrop for defining ideas that stick. According to the Heath's, a sticky idea is understood, remembered, and leads to a change in belief or behavior. Sticky ideas have six common characteristics: 1) Simplicity, 2) Unexpectedness, 3) Concreteness, 4) Credibility, 5) Emotions, and 6) Stories.
Summarize simple ideas first. Proposal (win) themes are a great example of how simple lead-in sentences can provide the hook for reader (evaluators). Support lead sentences with descriptive detail and proof in descending order of importance to be most effective.
Tell stories. Stories provide a vivid example of sticky ideas in action that add credibility, concreteness, and emotion to ideas. The most effective stories are: 1) Who am I stories, 2) Teaching stories, 3) Vision stories, 4) Values in action stories, and 5) I know what you're thinking stories.
You can't manage what you don't measure. Use templates for more efficient data calls and tools (e.g. DocuBurst, Teledyne Brown Engineering) to automate compliance. Quantify subcontractor experience and competencies to improve capture team processes and outcomes using simple scoring, e.g., no experience (0 points), one project (1 point), two projects (2 points), five or more projects (3 points). Track sub-contractor data call responsiveness to refine the partner selection process in cases where multiple subs are competing for the a few spots, e.g., persistent follow-up required (0 points), late submissions (1 point), on-time submissions (2 points), early submissions (3 points).
Numbers translate easily into scorecards and dashboards. These tools help to reduce emotional stress. The colors show you what is working (opportunity to give positive feedback) and what is not working (opportunity for process improvement). Work the yellows and reds first. Identify the root causes then develop a recovery plan.
A "can-do" attitude goes a long way. The African Bid Safari was a great elective session to end the day. South African's generally don't have the training, tools, and expertise that we take for granted in the US. They are continually challenged to do more with less. Lessons learned include expecting the unexpected—and plan for it; assembling teams efficiently and effectively, and; relying on multi-disciplinary specialists (both companies and individuals).
Let's Exchange Ideas. Do you disagree with any of these golden nuggets? Can you enhance the ones in this article? Do you have other nuggets that you think should make the list from some of the other sessions? If so, let's continue the dialogue on a LinkedIn discussion group, the new NCA website blog, or one-on-one.